AGGREGATES & ASPHALT CALCULATOR
Sunrock – Leading Supplier of Aggregates, Asphalt, & Concrete in Cary NC & Beyond
As a construction company or developer in Cary NC, you want reliable concrete contractors in Cary NC. Sunrock is a local producer and supplier of Concrete in Cary, Raleigh & The Triangle area of NC.
We, concrete company Cary NC use innovation & technology to supply Cary with high-quality concrete. For example, Sunrock is the first company in the United States to have used the twin steer concrete mixing vehicle. While it had been used in Europe and Canada, we saw a value in being able to transport a 10 yard load of concrete on any road or street in Cary NC.  This is just one of the ways we use technology to supply ready mix concrete to our customers.
find ready mixed concrete for your next project
Asphalt & Recycled Asphalt Company in Cary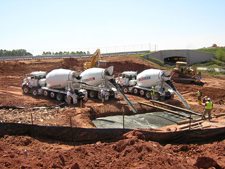 As one of the best asphalt companies in Cary NC, Sunrock also provides customers with high-quality asphalt, hot mix asphalt, and recycled asphalt materials. We know our asphalt is of the highest quality because we own the local quarries where we mine and produce our own asphalt products.
By owning our own quarries, we can vouch for each load of asphalt. This is because we can monitor our quality during the mining, production, and delivery of asphalt to our customers in Cary NC.
We also care about sustainability which is why we produce recycled asphalt products, or RAP. Our RAP product in Cary meets government and developer requirements for the use of recycled materials in construction projects and development jobs in Cary & The rest of NC.
Find Hot Mix Asphalt For Your Next Project
Proudly Supplying Cary With Aggregates, Trap Rock & Stone Products.
At Sunrock, we take pride in the materials we produce and distribute. We also place an emphasis on customer satisfaction. We have over 3 generations of experience in the industry and, as such, are one of the leading aggregate suppliers in Cary.
Our quarries at Kittrell, Woodsdale, and Butner allow us to produce a variety of different aggregates, such as gneiss, granite, and diabase trap rock.  We are also one of the leading Granite suppliers in Cary NC. That means you have a local supplier that can provide a variety of different aggregates for your industrial projects and construction projects in Cary.
Sustainability is also important here at Sunrock. In the past, demolition of concrete, asphalt, and processing waste may have been simply discarded. Now, we use state-of-the-art technology to produce and supply recycled aggregates for construction & development projects in Cary & The Triangle.
find aggregates for your next project
Contact Sunrock For Aggregate, Asphalt & Concrete in Cary NC
When you need a local, reliable concrete supplier, aggregate supplier, or asphalt supplier in Cary NC, you can count on Sunrock. We have been serving Cary & the Triangle for over 60 years and have the right knowledge and expertise to make sure your construction project gets the right materials for the job. Aside from Cary we also provide construction materials in Raleigh,  Durham, Holly Springs, Chapel Hill, Morrisville, Apex, Knightdale, Clayton, Wake Forest, and beyond. Call us at 855-687-7625 or contact us online for all of your aggregates, asphalt, and concrete in Cary NC.
Credit Application
get a quote for your next project