Sunrock – Innovative Thinking in the Concrete Industry
Aside from our commitment to manufacturing a quality product and providing excellent service, Sunrock is also known for innovative thinking in the concrete business.
In 2002, Sunrock was the first concrete company in the U.S. to introduce the twin steer concrete mixer, an innovative delivery vehicle used extensively in Europe and Canada. With two turning axles on the truck, this vehicle is able to transport a full legal 10-yard load of concrete across any roadway. Our fleet of these vehicles enables us to handle weight-restricted roads, thus providing better service and full loads on every delivery.
find ready mixed concrete for your next project
Strong, more durable concrete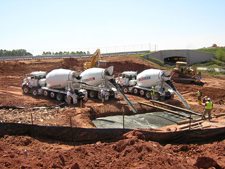 Sunrock is also the only concrete supplier in the Raleigh-Durham market to use manufactured sand in its concrete. This allows for uniform color, consistency and superior finishing characteristics. In addition, our use of manufactured sand and stone as primary ingredients means that Sunrock's concrete makes a harder and ultimately more durable finished product.
Committed Concrete Support
At Sunrock, our Quality Control Department team operates a full-service North Carolina Department of Transportation-approved laboratory capable of creating concrete that is mixed to meet any job specification or unique application. Sunrock's quality control technicians hold NCDOT, ACI and NRMCA certifications in concrete laboratory field-testing.  So, we are able to support the demand of our commercial customers for on-site testing expertise.
Our Central Dispatch team utilizes state-of-the-art order taking, ticketing and routing software to direct a ready mixed concrete fleet that serves customers across the area from one of our six concrete plant locations in Butner, Durham, Raleigh, Wake Forest, Zebulon and Kittrell. As one point of contact, our dispatch team is the vital link between our customers and Sunrock operations.
Our Fleet Department team maintains the flexibility to accomplish many on-site repairs in order to ensure a completed delivery.  Also, demonstrating our commitment to dependable production by running repair crews round the clock to stay prepared for the next day's orders.
What is concrete?
Concrete consists of 85% aggregates (sand and stone) and 15% Portland cement and Fly Ash. Cement is produced from the crushing and heating of a variety of rock types, primarily limestone. Cement, the glue that holds aggregates together, is the world's oldest manufactured building material. Fly Ash is a recycled material that demonstrates Sunrock's commitment to be Environmentally friendly and well as improving the finish of Sunrock's concrete.
get an apporximate estimate of ready mixed concrete needed
Uses of concrete

Because of its ability to be molded into a variety of shapes and sizes, concrete is also one of the world's most versatile building materials. Decorative concrete is fast becoming one of the more sought after concrete uses in project development to add customization of both color, design, and artwork.  Often reinforced with steel, concrete is used in building foundations, buildings, roadways, bridges, pipe and structural beams. Concrete is also highly recyclable, making it an environmentally sound building material. Reclaimed concrete can be reprocessed into ABC base stone which has a range of uses, most commonly as a road base.
Credit Application
get a quote for your next project