Rock.  It's the Main Ingredient.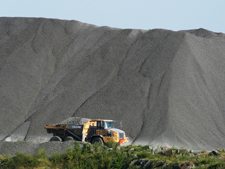 Sunrock's aggregates management team has over three generations of industry experience. With an NCDOT-certified research laboratory and personnel, we produce aggregates at three quarries located in Butner, Kittrell and Woodsdale, NC.
The Butner quarry produces diabase trap rock, a high-quality material that is useful in a variety of construction and industrial applications, while the Kittrell quarry produces granite, primarily for construction applications. The Woodsdale quarry produces granite gneiss. All three quarries have extensive reserves and produce material that is approved by the North Carolina Department of Transportation. The Woodsdale and Butner quarries are Virginia Department of Transportation approved.  The Sunrock Group provides rock delivery in Raleigh NC & all of North Carolina, get a quote today.
find aggregates for your next project
Recycled Aggregates
Sunrock also produces recycled aggregate from the reprocessing of waste and demolition concrete and hot mix asphalt pavement. This is an environmentally sound way to preserve existing resources and reduce waste in our landfills. In the past, this material was formally discarded and disposed of in landfills until technology was developed to utilize this resource. The utilization of these materials also helps to conserve the natural resources that produce new aggregates. View our locations providing recycled materials.
Supplying aggregates to Raleigh-Durham, NC & beyond
Sunrock can deliver aggregates and rocks directly to your job site in the Raleigh, Durham, & Triangle area or can deliver by rail in areas east of the Mississippi River.
What are Aggregates?
The basic ingredient in asphalt pavement and ready mixed concrete, aggregates are derived from the crushing and screening of hard rocks, sand and gravel, as well as the reprocessing of used concrete and asphalt.
Click here to see samples of our quarry products
Uses of Aggregates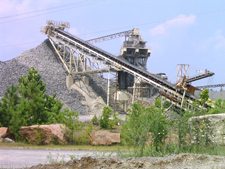 Because aggregates are a common component in construction and road building, rock used to produce aggregates must possess consistent high quality and high internal strength in order to withstand the weathering forces of nature and high traffic.
Aggregates provide the basic building blocks for roads, highways, airport runways, houses and other buildings. They are a part of virtually every type of construction project and contribute to the strength and growth of our nation's infrastructure.
get an approximate estimate of hot mix aggregates
A few fun facts about aggregates from NSSGA: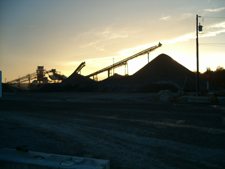 38,000 tons of aggregates are needed to construct a one-lane mile of a four-lane interstate highway.
15,000 tons of aggregates are needed to build an average sized school or hospital.
400 tons of aggregates are needed to build a typical home.
Aggregates are often used within 50 miles of the quarry they are extracted from.
Ground and pounded aggregates are used in common household goods such as paper, paint, cosmetic, cleaners, pharmaceuticals, toothpaste and chewing gum.
Every American born will need 1.37 million pounds of stone, sand and gravel in their lifetime.
Credit Application
get a quote for your next project