Turn-Key Parking Lot Construction
At The Sunrock Group, our construction materials expertise gives us a unique advantage over other pavement contractors. For over 60 years, we've been a leading supplier of high-quality asphalt, concrete and aggregates — we translate this knowledge and experience to parking lot construction, ensuring that we deliver a superior product, from the materials we use to the final results.
Concrete & Asphalt Paving Services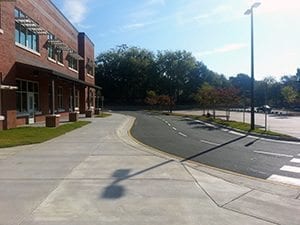 With seven aggregates production facilities in the Raleigh-Durham area and a full suite of heavy construction contracting capabilities, Sunrock provides turn-key parking lot construction services. We take pride in meeting and exceeding our clients' expectations — from project layout and site development to pavement smoothness and compaction requirements.
Our complete parking lot contracting services include:
Material supply – ABC, asphalt, concrete & more
Grading & earthwork
Asphalt paving
Concrete work
Sealcoating & pavement markings
Curb installation
Parking lot resurfacing
Sunrock – North Carolina's Preferred Paving Contractor
At The Sunrock Group, we do it right the first time — or we don't do it at all. Our commitment to quality, integrity and service means that our pavement contracting team focuses on delivering a superior product for every client, every time. Partner with Sunrock to take your site from rough land to a finished commercial parking lot, on schedule and within budget.
With quarries and aggregate production facilities in Raleigh, Butner, Kittrell, Woodsdale, Wake Forest, Durham and Zebulon, NC, The Sunrock Group is a full-service parking lot contractor offering grading work, asphalt paving services and more. Contact Us to learn more about our parking lot construction services.