Grow With Us
Do you desire to be a part of Sunrock's dynamic growth?  Are you interested in advancing your career or learning a new skillset? All while earning a great income and affordable benefits with great job security?
Bring Your Knowledge, Skills, And Abilities To Sunrock
Sunrock has career opportunities within our rock quarries, asphalt plans, concrete plants, maintenance shop, quality control, paving, grading, trucking, and other divisions. All positions are local and you're home every day.
Trucking – Class A & B CDL Drivers
Mixer Drivers
Dump Truck Drivers
Tanker Drivers
Lowboy Drivers
Electricians
Millwrights
Heavy Equipment Operator
Diesel Heavy Equipment Mechanics
Grading & Paving Equipment Operator
Managerial & Supervisory Positions
Register for Job Fair
"*" indicates required fields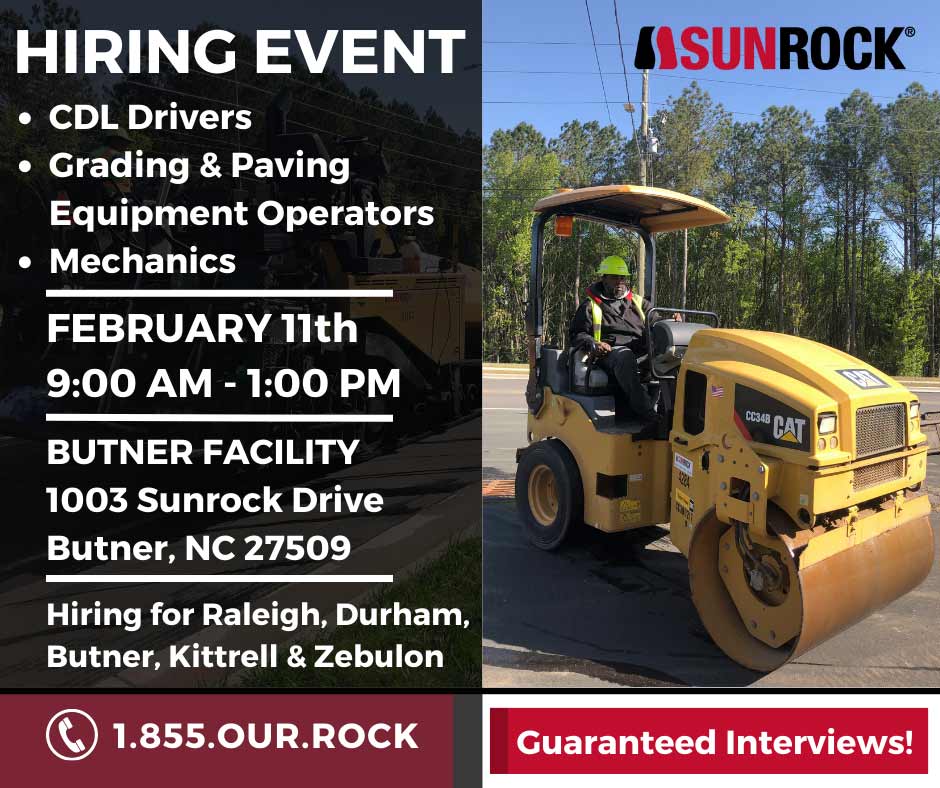 If you're looking for a new company to grow with, come to our Job Fair:
• Date: Feb 11, 2023
• Time: 9 am to 1 pm
• Place: 1003 Sunrock Drive Butner, NC 27509
Guaranteed Interviews; potential onsite offers and Food Truck onsite. For more information please call 919-747-5570