Sustainable Development
At Sunrock, we're committed to sustainable development, to using North Carolina's resources responsibly and meeting present needs while never compromising the future of our environment. As a corporate citizen, our company strives to act as a good steward over the land on which we operate our facilities.
We earn our living from the earth. So it should be no surprise that we believe it is imperative to use natural resources responsibly, securing the land's short-term and long-term usefulness. There are several environmental principles that Sunrock actively abides by in an effort to be compliant not only with governmental regulations but also with our own corporate conscience.
Learn more about our sustainable development strategies:
Environmental policy
We have adopted an environmental policy that clearly articulates the company's mission on
environmental stewardship as it relates to our operating facilities. A brief excerpt from the policy is as follows:
"Sunrock is especially concerned with the protection of both the environment of our properties and the neighboring properties and communities surrounding the company's operations. Compliance with environmental regulations and permit conditions is the first step towards protecting the air and water of North Carolina. Every effort should be afforded to prevent the detrimental effect caused by water and air pollution within the communities we operate."
Preservation & conservation
We seek to further reinforce our commitment to the community through the preservation, conservation and utilization of the earth's natural resources and environment. While the construction materials industry is already heavily governmentally regulated, Sunrock takes strict measures to exceed the basic standards of regulation. Through our sincere commitment to our customers, neighbors, community and to producing environmentally friendly construction materials, Sunrock strives to set the standards for others, while maintaining the utmost respect for the environment.
Caring for forests & wildlife

Sunrock actively manages the forests and wildlife located within the buffer or reserve land associated with its operations. We work with the local logging communities to make use of any trees that require cutting, to thin the forests to ensure a healthy forest habitat and to facilitate a diverse wildlife population.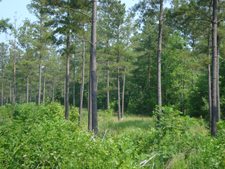 Wildlife food plots are planted and prescribed burning techniques are utilized to enhance the habitat for deer, turkey and small game. Plant species that are beneficial to song birds and small mammals are used in the stabilization of berms and buffers. Stream buffers are maintained larger than required where possible in order to enhance wildlife travel corridors and edge habitat.
Careful observance of environmental regulations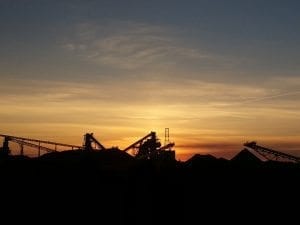 Mining permits: From a regulatory perspective, Sunrock maintains a mining permit from the North Carolina Division of Land Resources, Land Quality Section for all three mining sites. This permit places limits on blasting activities, creek and property line buffers as well as requires erosion and sediment control measures to protect off-site state properties and waters. The permit also requires a reclamation plan and bond to ensure that the site is returned to a stabilized and usable form at no cost to the citizens of North Carolina once mining has ceased.
Operating conditions within the permit address ground vibration, inadvertent public entry in and around the mine site, as well as air-blast limits to prevent adjacent property damage. The permit also stipulates that we apply for and receive any additional permits required by the State of North Carolina, US Army Corps of Engineers or other federal and local government agencies.
Storm water permits:  Sunrock maintains general storm water permits from the State Division of Water Quality to allow the discharge of excess storm water from all our facilities. These permits place limits on the amounts of pollutants allowed in any discharged water from our sites. Operating conditions require us to have a specific Pollution Prevention Plan for each site. Other conditions stipulate record keeping and employee training in spill prevention, spill clean-up and good housekeeping measures to avoid causing off-site pollution. We are also required to periodically sample the discharged water and have analysis done to ensure compliance with the permitted limits.
Air quality permits:  Sunrock maintains air quality permits from the State Division of Air Quality to allow for the operation of site equipment that has the potential to generate excessive air pollutants or dust. Operating conditions require the use of dust control measures or equipment to minimize any pollution. Stack sampling, opacity testing, water spray bars and dust collection equipment are required by the permit conditions. Potential pollution prediction modeling is required as part of the application process prior to receiving an air permit.